What Dreams May Come - (1998) - Netflix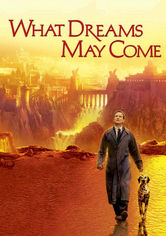 Sci-Fi & Fantasy
Deceased physician Chris Nielson risks eternal damnation by leaving heaven to save his distraught wife after she commits suicide and ends up in hell.
Director:

Vincent Ward

Cast:

Robin Williams

,

Cuba Gooding Jr.

,

Annabella Sciorra

,

Max von Sydow

,

Jessica Brooks Grant

,

Josh Paddock

,

Rosalind Chao

,

Lucinda Jenney

,

Maggie McCarthy

,

Wilma Bonet

,

Matt Salinger

,

Carin Sprague

,

June Carryl

,

Paul P. Card IV

,

Werner Herzog

Netflix Rating:

3.7/5
Rotten Tomatoes Score:
0/100
Countries Available in:

Not available in your region? Sign up for ExpressVPN to unblock Netflix!

Available Since:
09 Sep 2014
Similar Titles:

Synopsis
After Chris Nielsen dies in a car accident, he is guided through the afterlife by his spirit guide, Albert. His new world is beautiful and can be whatever Chris imagines. Even his children are there. But, when his wife, Annie, commits suicide and is sent to hell, Chris ignores Albert's warnings and journeys there to save her. Upon arrival, Chris finds that rescuing Annie will be more difficult than he'd imagined.
Other Titles Being Viewed Right Now