Testament - (1983) - Netflix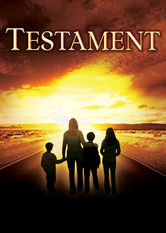 Sci-Fi & Fantasy
A family copes with the news that nuclear bombs have been detonated across the country, and it's a matter of time before one explodes near their home.
Director:

Lynne Littman

Cast:

Jane Alexander

,

William Devane

,

Rossie Harris

,

Roxana Zal

,

Lukas Haas

,

Philip Anglim

,

Lilia Skala

,

Leon Ames

,

Lurene Tuttle

,

Rebecca De Mornay

,

Kevin Costner

,

Mako

,

Mico Olmos

,

Gerry Murillo

Netflix Rating:

3.3/5
Rotten Tomatoes Score:
0/100
Countries Available in:

Not available in your region? Sign up for ExpressVPN to unblock Netflix!

Available Since:
22 Apr 2015
Similar Titles:

Synopsis
Nuclear war in the United States is portrayed in a realistic and believable manner. The story is told through the eyes of a woman who is struggling to take care of her family. The entire movie takes place in a small suburban town outside San Francisco. After the nuclear attack, contact with the outside world is pretty much cut off.
Other Titles Being Viewed Right Now