Hard to Kill - (1990) - Netflix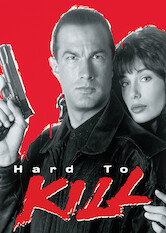 How To Unblock Every Movie & TV Show on Netflix No Matter Where You Are
1h35m -
Action Thrillers
While investigating a corrupt politician, Mason Storm is gunned down and left for dead. With a nurse's help, he recovers and exacts his revenge.
Director:

Bruce Malmuth

Cast:

Steven Seagal

,

Kelly LeBrock

,

William Sadler

,

Frederick Coffin

,

Bonnie Burroughs

,

Andrew Bloch

,

Branscombe Richmond

,

Charles Boswell

,

Lou Beatty Jr.

,

Nick DeMauro

Netflix Rating:

5.8/5
Rotten Tomatoes Score:
0/100
Countries Available in:

Not available where you live? Learn how to unblock Netflix & watch this title.

Available Since:
2020-12-28
Trailer:
Similar Titles:

Synopsis
Following up on a lead, L.A. Detective Mason Storm gathers evidence against the Mob and its political supporters but unfortunately, he is being monitored secretly, and when his cover gets blown, he will be home invaded and left for dead. Seven years later, Storm unexpectedly recovers from his deep coma only to realise that he needs to finish what he started and finally get even. In the end, now that Storm is unstoppable, no one will deny him of his rightful and devastatingly violent retribution. Who can be a match for a dead man's fury?
Other Titles Being Viewed Right Now