Citizen Kane - (1941) - Netflix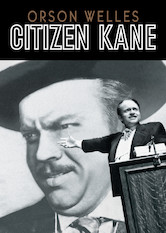 How To Unblock Every Movie & TV Show on Netflix No Matter Where You Are
1h59m -
Classic Movies
A newspaper tycoon rises from poverty to become one of America's most influential men. Yet as his fortune grows, happiness appears to elude him.
Director:

Orson Welles

Cast:

Dorothy Comingore

,

Joseph Cotten

,

Everett Sloane

,

William Alland

,

Ray Collins

,

Agnes Moorehead

,

Paul Stewart

,

Erskine Sanford

,

Ruth Warrick

,

Orson Welles

Netflix Rating:

8.3/5
Rotten Tomatoes Score:
0/100
Countries Available in:

Not available where you live? Learn how to unblock Netflix & watch this title.

Available Since:
2019-10-15
Trailer:
Similar Titles:

Synopsis
A group of reporters are trying to decipher the last word ever spoken by Charles Foster Kane, the millionaire newspaper tycoon: 'Rosebud.' The film begins with a news reel detailing Kane's life for the masses, and then from there, we are shown flashbacks from Kane's life. As the reporters investigate further, the viewers see a display of a fascinating man's rise to fame, and how he eventually fell off the top of the world.
Other Titles Being Viewed Right Now