Alexandria ... Why? - (1979) - Netflix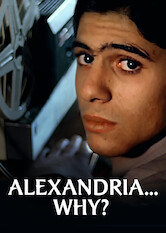 How To Unblock Every Movie & TV Show on Netflix No Matter Where You Are
2h11m -
Classic Movies
Living in Alexandria during World War II, an Egyptian teen enamored with American films dreams of making it in Hollywood.
Director:

Youssef Chahine

Cast:

Naglaa Fathi

,

Farid Shawqy

,

Mohsen Mohiedine

,

Ezzat El Alaili

,

Abdalla Mahmoud

,

Youssef Wahby

,

Yehia Chahine

,

Laila Fawzy

,

Mahmoud El Meleigy

,

Ahmed Zaki

,

Gerry Sundquist

Netflix Rating:

7.4/5
Rotten Tomatoes Score:
0/100
Countries Available in:

Not available where you live? Learn how to unblock Netflix & watch this title.

Available Since:
2020-11-03
Similar Titles:

Synopsis
"Yahia", a young man living in the cosmopolitan Alexandria during World War II. Between his dreams, which up to Hollywood and constraints of his life in the middle class trying to be a new Hamlet to be or not to be . Uprising dreams wondering where all new meaning to life amid the horrors of war and life pain .
Other Titles Being Viewed Right Now