The Longest Yard - (1974) - Netflix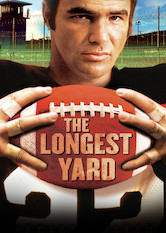 How To Unblock Every Movie & TV Show on Netflix No Matter Where You Are
2h1m -
Classic Movies
Washed-up professional quarterback Paul Crewe is sent to jail and forced to put together an inmate gridiron team to take on a group of prison guards.
Director:

Robert Aldrich

Cast:

Eddie Albert

,

Burt Reynolds

,

Joe Jackson

,

Richard Kiel

,

Bernadette Peters

,

Harry Caesar

,

Joe Dorsey

,

James Hampton

,

Tony Cacciotti

,

Charles Tyner

,

John Steadman

,

Jim Nicholson

,

Ed Lauter

,

Michael Conrad

Netflix Rating:

7.1/5
Rotten Tomatoes Score:
0/100
Countries Available in:

Not available where you live? Learn how to unblock Netflix & watch this title.

Available Since:
2019-11-20
Trailer:
Similar Titles:

Synopsis
A football player-turned-convict organizes a team of inmates to play against a team of prison guards. His dilemma is that the warden asks him to throw the game in return for an early release, but he is also concerned about the inmates' lack of self-esteem.
Other Titles Being Viewed Right Now