Carrossel 2: O Sumiço de Maria Joaquina - (2016) - Netflix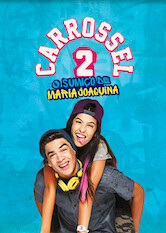 1h33m -
Comedies
The eclectic children of World School get a chance to meet a famous pop star, but first their archenemies aim to put them through a grueling trial.
Director:

Mauricio Eça

,

Mauricio Eca

Cast:

Fernanda Concon

,

Maisa Silva

,

Jean Paulo Campos

,

Larissa Manoela

,

Matheus Ueta

,

Guilherme Seta

,

Lucas Santos

,

Victoria Diniz

,

Victória Diniz

,

Mauricio Eça

Netflix Rating:

4.7/5
Rotten Tomatoes Score:
0/100
Countries Available in:

Not available where you live? Learn how to unblock Netflix & watch this title.

Available Since:
2020-07-22
Similar Titles:

Synopsis
The children are invited by a Brazilian music star to one of her shows. But the trip turns into a nightmare when villains Gonzales and Gonzalito, who have just come out of prison, decide to kidnap Maria Joaquina.
Other Titles Being Viewed Right Now