Over the Moon - (2020) - Netflix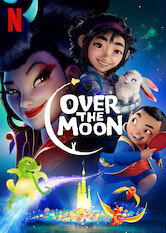 How To Unblock Every Movie & TV Show on Netflix No Matter Where You Are
1h40m -
Family Features
Fueled by memories of her mother, resourceful Fei Fei builds a rocket to the moon on a mission to prove the existence of a legendary moon goddess.
Director:

Glen Keane

Cast:

Cathy Ang

,

Phillipa Soo

,

Ken Jeong

,

Robert G. Chiu

,

John Cho

,

Sandra Oh

,

Ruthie Ann Miles

,

Margaret Cho

,

Kimiko Glenn

,

Artt Butler

,

Irene Tsu

,

Clem Cheung

,

Conrad Ricamora

Netflix Rating:

5.8/5
Rotten Tomatoes Score:
0/100
Countries Available in:

Not available where you live? Learn how to unblock Netflix & watch this title.

Available Since:
2020-10-24
Similar Titles:

Synopsis
Young Jane Benson just about manages to make ends meet running the large family house in Yorkshire. In love with local doctor Freddie Jarvis, she suggests they marry, but almost at once finds she has inherited eighteen million pounds. He makes it clear he wants nothing to do with the money and what it can buy, and Jane sets off alone on a spree pursued by two ardent suitors. Jarvis finds he has gained notoriety for turning down such a catch and his plans for ernest research are soon compromised.
Other Titles Being Viewed Right Now