Racetime! - (2020) - Netflix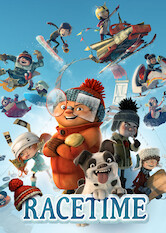 How To Unblock Every Movie & TV Show on Netflix No Matter Where You Are
1h29m -
Canadian Films
To save their beloved barn, expert engineer Frankie and his friends take on a cocky, candy-cane-eating newcomer in an epic sled race through the snow .
Director:

François Brisson

,

Benoit Godbout

Cast:

Sonja Ball

,

Hélène Bourgeois Leclerc

,

Mehdi Bousaidan

,

Sophie Cadieux

,

Anne Casabonne

,

Hugolin Chevrette-Landesque

,

Marguerite Damour

,

Lucinda Davis

,

Tod Fennell

,

Noel Fisher

Netflix Rating:

5.5/5
Rotten Tomatoes Score:
0/100
Countries Available in:

Not available where you live? Learn how to unblock Netflix & watch this title.

Available Since:
2021-01-01
Trailer:
Similar Titles:

Synopsis
A spectacular sled race through the village. Frankie-Four-Eyes and his team including Sophie as the driver take on the newcomers: the mysterious and conceited Zac and his athletic cousin ...
Other Titles Being Viewed Right Now