Go Fish - (2019) - Netflix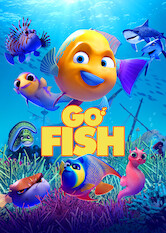 1h15m -
Family Adventures
How To Unblock Every Movie & TV Show on Netflix No Matter Where You Are
1h15m -
Family Adventures
A brave parrotfish and his pals must find the source of an awful black goop spreading through the ocean and stop it from destroying their coral reef.
Director:

Sean Patrick O'Reilly

Cast:

Sean Patrick O'Reilly

,

Kathleen Barr

,

Elijah Dhavvan

,

Asia Mattu

,

Scott McNeil

,

Justine Ezarik

,

Mark Hamill

,

Ron Perlman

Netflix Rating:

5.6/5
Rotten Tomatoes Score:
0/100
Countries Available in:

Not available where you live? Learn how to unblock Netflix & watch this title.

Available Since:
2020-12-30
Trailer:
Similar Titles:

Synopsis
Max is a trendy, pretty, young lesbian, who is having trouble finding love. A friend sets her up with Ely, whom Max likes, but Ely is frumpy, homely, and older. Nor do they have much in common. Can Max learn to look past the packaging?
Other Titles Being Viewed Right Now